I got my Google Cloud Platform: Professional Cloud Security Engineer certification in March 2022, today I renewed my Azure Security Associate certification for another year. I'm happy that the renewal is free. I originally thought I needed to register for the exam again but turns out it is not required.
I thought I failed my GCP Cloud Security exam since I took it last December and it said that I failed it. Fortunately they revised/audited their exam and realised that it was a mistake and not I passed it. 🙂
Now I need to clear Azure Administrator Associate certification before I am done for the year in terms of cloud certifications.
My annual mandatory block leave has ended. It's a 5-day period where we are not allowed to use office laptop and corporate phone as part of Monetary Authority of Singapore (MAS) requirement. Basically, it is to make sure that the company will still run well without you. Obviously nothing will happen without me but my leave happens when Log4J vulnerability is announced so that means I missed most of the initial action from the vulnerability. There's still work to be done with regards to it and I'm excited to join in the action next week.
I guess that's what it means to be working in the field of Cyber Security. Excitement always happens at the end of the year – or close to it.
I forgot to post on my birthday again but I will post what I did on that day.
I'm clearing my annual leave this week (since it's my birthday week). It was good since I get to rest for a week instead of the usual 1 annual leave day which I take usually. Unfortunately, that means I missed the action of log4j vulnerability at my workplace. Not sure if that's a good thing but I think it is going to be a long cleanup since there are so many applications that are using Java and there are so many exploits/ransomware/state attacks using this vulnerability. It's likely to last for some time.
I guess I'm quite a workaholic to be still thinking about work on my birthday. :shocked: I try to make sure I don't work or don't think about work on my birthday because it is like an off day for me for the entire year. 😀
For my off week, I planned to study for my Google Cloud Platform Cloud Security certification and also catch up on some personal errands. Not to forget to have my favourite cup of tea latte to chill. 🙂
On my birthday, I had dinner with my boyfriend at Beauty in the Pot because we couldn't get a booking at KOMA restaurant. It's not too bad since I love Beauty in the Pot. It's basically what I had for last year as well.
He surprised me with a gigantic floating/helium balloon on the day itself too. No birthday cake but I got a helium balloon. :happy: He got me a pair of gold earrings and a windmill pendant from Chow Tai Fook a few days before. I realised as I get older, my skin is having issues when I wear costume jewellery or mixed metals. I can still wear them but if I wear them for too long, it will get a bit red/swollen. 🙁 Oh well. I love my costume jewellery for earrings. Now I have to wear at least 18K gold earrings otherwise my ear holes might sealed. Oh well. Age related issues, I guess.
Before the dinner, I had a free facial (TIMETREASURE INVIGORATING TREATMENT) after I redeemed my free facial voucher after spending over S$500 on my first purchase on my birthday month at one of the Sulwhasoo boutique. Well, I tend to buy 6-month supply of skincare products at a go so hitting S$500 is not too difficult, especially when Sulwhasoo products aren't that cheap either. I opt to top up the eye care facial on top of my package for S$50 because it's worth it. I can see my face more lifted after the entire session, including my eye area. If I have a choice, I will want to go the facial sessions once a month. Sadly, it's quite expensive (worth S$360) and I'm not going to spend so much on it.
Pre-covid, it is very difficult to book a slot for the facials but I think the pandemic has made people try to avoid facials given the close proximity while mask-less. So I got the voucher and is able to secure a slot 2 days later. Quite surprising but I think I want to use the voucher ASAP given how dynamic the situation and the ever-changing restrictions brought by the pandemic.
Can you believe that we are still in the middle of the pandemic after close to 2 years? Gosh, I am certainly sick of it but I guess I rather stay in Singapore than to deal with the additional stress of travelling with so many different restrictions. I shall enjoy other people travel stories from Instagram stories.
As usual, I got myself a birthday cake. This year, I got a black forest cake. :happy: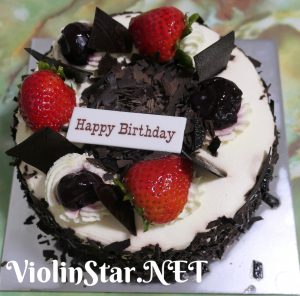 I'm loving my off week so far although I do feel FOMO about missing out on the log4j vulnerability related work. It's like one of the key vulnerability of the year and I miss out the initial action on it.
I think I will make this a new tradition – to clear my annual leave for a week on my birthday week. 🙂
Today's my last day of my 3-day off days. I took 3 day leave from work as I was feeling burnout but now I feel like a kid, dreading when the "school" reopens. Haha. Back to work tomorrow and hope things go well.
It's important to take breaks sometimes to prevent burnout after all.
I cleared 1.5 courses for my GCP Security certificate preparation. Still got 3.5 courses more to go. 🙁
I also finished the "What's Wrong with Secretary Kim?" korean drama too and had a haircut at Walking on Sunshine. Don't think I will be going back to Walking on Sunshine for haircut next time. I miss my usual hairstylist, Mikhaela. She went back to Korea and relocated to Australia in 2019 after her marriage. Oh well. She's the only hairstylist who knows exactly what I want for my hairstyle. I haven't found a hairstylist as good as her so far. Elin from Zinc Korean Hair Salon is the closest to her standards. I think I will just stick to Elin next time. Although it's a bit expensive to keep going to Zinc Korean Hair Salon… :sigh: Oh well…
Nevertheless, I'm loving my new haircut even though it is not the usual style that I prefer. Well, there were some miscommunication with the hairstylist and I. Oh well.
I also went to try Eggslut with my boyfriend and the egg burger he ordered is better than my bacon burger.
I'm looking forward to my next break in December. Time to start counting down!
I was watching YouTube and saw 1 video from a YouTuber about minimalism spending. I thought it will be a good topic to talk about in ViolinStar.NET too. I haven't been blogging as much as I hope to this year. I also haven't post any photos on my Instagram accounts in 2020 and 2021 so far.
One of the first few things I realised after turning 30 in last December is that my health/body is not as strong as before. I can't stay up late without impacting my mornings. I really need at least 7 hours of sleep everyday. I can no longer work so hard because I will get burn out. I need to pace myself in both personal life and work life.
I also need to save up for the future and rainy days. After seeing 1 of my friends who got cancer when she is the same age as me back in 2019, I cannot underestimate the amount of money and insurance coverage I need to protect myself. Having a deep pocket provide more options for treatment too. Insurance is important if you don't have really deep pockets. Hence, I really should not spend wastefully like what I did in my 20s.
These are the categories that I want to spend less in my 30s as I learn from my mistakes in my 20s after reviewing my expenditure in my 20s. Yes, I do track all my expenses ever since I started work in an Excel file. 🙂 I should have done it over MySQL on hindsight but oh well. Data analytics will be much easier if I am not tracking in Excel. :sigh:
(1) Buy less lower quality bags
I spent quite a bit of money buying fashion bags that are either in trend or of poor quality (such as Charles and Keith) when I was in my 20s. I even bought a Steve Madden bag from San Francisco. I thought it was leather but it turned out to be PU. It only lasted for a few months? It really cannot carry heavy stuff and it was the most expensive backpack I ever own at that time? It was US$54.44 (S$79.16) and only lasted a few months. :sigh: I have now discovered Fjallraven Kanken and got the second original kanken bag in Beijing after my first bag lasted for more than 2 years. We are talking about more than 2 years of daily use. It could have lasted even longer if I didn't see a sale at Beijing store and decided to replace my old, dirty and worn out bag.
I will still buy bags but I think I only want to buy the better quality ones. For backpacks, I am sticking to Fjallraven Kanken or Thule. For other bags, I think I want to either get real leather bags which I can send for servicing/repairs or nylon/cloth bags which can be dried which I can bring out on rainy days.
(2) Buy less makeup
I spent my 20s exploring different types of makeup and also going for makeup classes. I bought mascara that I end up throwing away after using 2 to 3 times? Yeah, it's the cheap ones from Innisfree/Watsons but to use them for less than 5 times before throwing it away because they have a expiry date of 6 months is just too wasteful. I still like lip and eye brow makeup though. Sadly, this pandemic has force us to wear masks all the time when we are out so there's really no need for lip makeup anymore. Maybe when we don't need to wear masks, I can go back to using lip makeup again. :happy:
I definitely want to buy less mascara or eye shadow palettes or eyeliners since I am just too lazy to put on full makeup and these items expires too fast for me to use them up.
(3) Buy less costume jewellery
When I am in my 20s, I really love to buy earrings and sometimes necklaces. I used to buy at least 20 pairs of earrings when I go to South Korea for vacation. I buy earrings and necklaces in whichever country I go to. I have some that I really love and some are just brand new which I haven't wore. I have some that is very dressy which I can only wear when I go for wedding lunch/dinner. I really like accessorising my outfits and spend quite a bit on them. It makes me very sad and I can't bear to throw away the ones that has either tarnished or rusted. As a result, I am always running of space to store them. 🙁
I have learned to buy fine jewellery in recent years. These don't rust and I can send them for professional cleaning at the jewellery stores. My first fine jewellery necklace is a silver necklace from Tiffany and Co. It's from their Return to Tiffany collection and I bought it when I went to San Francisco in 2018. I remembered walking in to want to buy the music note necklace but they don't have it so I fall back to my backup plan of the Return to Tiffany necklace. I have sent it for professional cleaning in Singapore boutiques numerous times. Silver is not really a fine jewellery piece but since I paid a premium (because it is Tiffany and Co), I decided to consider it as a fine jewellery piece. 🙂 I was quite sad when my pendant was badly scratched after using for some time. I even brought it to ask if they can polish it and the sales associate told me it costs S$40 for polishing. :shocked: Ever since then, I decided not to get another silver piece for a few hundred of dollars. It's either yellow gold or white gold for me.