Hi everyone, I realised I haven't blog about my birthday for this year so I'm back to blog about what I did on my birthday.
Some of you might know that I came back to Singapore after 2.5 weeks (actually 20 days, including travelling) in US. I went there for a business trip then I extended 7 days more for leisure trip. I feel incredibly fortunate that my first trip post-COVID is partially sponsored by my company. That means even the travel insurance is also paid by the company since it is a work trip. I always thought I will go South Korea once travelling resumed but it ended up to be US. Well, company is paying partially for it so why not? Haha.
I went to Scottsdale, Arizona for my work and went on to explore Gilbert (only 1 night), Chandler (thanks to my colleague and his wife for bringing me around after work), Tempe (day trip but it was raining) in Arizona. No, I didn't go to the Grand Canyon or Sedona. Yeah, I am lowkey regretting my decision now.
Most people do not wear masks in the places I went to in Arizona and they also cough and sneeze out loud. Kind of scary given COVID is not completely gone.
I extended my trip to go to Los Angeles, California and also went to Santa Monica Pier for admiring the sunset. Took many great photos which I have yet to admire after I come back from US. Expensive hotels but at least it is cheaper than New York, which was my original plan. Public transport is really cheap with $3.50 metro day pass though haha. I feel that the public transportation in LA is quite safe but of course not as safe as Singapore. Tired office workers do sleep on the bus when taking the bus home. There are 2 CCTVs for the bus as well. Masks are also provided on bus and commuters do take it and wear it. People also double mask in LA.
I also went to San Francisco, California for shopping. Many thanks to Gulabi for the accommodation. I saved on the expensive hotel cost in San Francisco. 😀 People do wear masks and is cautious about coughing and sneezing in public. The city has gotten much cleaner as well. Public buses are cleaner than the ones in Singapore too. Their bus terminal looks extremely clean. I wish Singapore will follow what San Francisco is doing and their cleanliness standards. It's a vast difference from my last trip in 2018.
Anyway, back to what I did on my birthday. I did lots of unpacking of the shopping loots that I bought in US. This time, I made a conscious effort not to overbuy stuff and only buy something I truly like. It helped that USD currency is quite strong when I was there. Unfortunately, this also means I bought some items from Hermes and Cartier which burst my spending quite a bit. However, even if I exclude the money I spent at Hermes and Cartier, I still spent quite a bit. My accommodation in LA was quite expensive. Food were quite expensive in LA and SF too.
I also had dinner with Chin Hau at Beauty in the Pot. Have to go back there since we couldn't get Bread Street Kitchen booking. We went to Bread Street Kitchen on another day for early Christmas dinner and oh gosh, their food standards have dropped. I'm glad I didn't go there on my birthday or I will be very disappointed.
I lost track of time and didn't manage to get a birthday cake on my birthday but I managed to get it on another day. I will post the photo of it once I sort out my photos. Haha.
I forgot to post on my birthday again but I will post what I did on that day.
I'm clearing my annual leave this week (since it's my birthday week). It was good since I get to rest for a week instead of the usual 1 annual leave day which I take usually. Unfortunately, that means I missed the action of log4j vulnerability at my workplace. Not sure if that's a good thing but I think it is going to be a long cleanup since there are so many applications that are using Java and there are so many exploits/ransomware/state attacks using this vulnerability. It's likely to last for some time.
I guess I'm quite a workaholic to be still thinking about work on my birthday. :shocked: I try to make sure I don't work or don't think about work on my birthday because it is like an off day for me for the entire year. 😀
For my off week, I planned to study for my Google Cloud Platform Cloud Security certification and also catch up on some personal errands. Not to forget to have my favourite cup of tea latte to chill. 🙂
On my birthday, I had dinner with my boyfriend at Beauty in the Pot because we couldn't get a booking at KOMA restaurant. It's not too bad since I love Beauty in the Pot. It's basically what I had for last year as well.
He surprised me with a gigantic floating/helium balloon on the day itself too. No birthday cake but I got a helium balloon. :happy: He got me a pair of gold earrings and a windmill pendant from Chow Tai Fook a few days before. I realised as I get older, my skin is having issues when I wear costume jewellery or mixed metals. I can still wear them but if I wear them for too long, it will get a bit red/swollen. 🙁 Oh well. I love my costume jewellery for earrings. Now I have to wear at least 18K gold earrings otherwise my ear holes might sealed. Oh well. Age related issues, I guess.
Before the dinner, I had a free facial (TIMETREASURE INVIGORATING TREATMENT) after I redeemed my free facial voucher after spending over S$500 on my first purchase on my birthday month at one of the Sulwhasoo boutique. Well, I tend to buy 6-month supply of skincare products at a go so hitting S$500 is not too difficult, especially when Sulwhasoo products aren't that cheap either. I opt to top up the eye care facial on top of my package for S$50 because it's worth it. I can see my face more lifted after the entire session, including my eye area. If I have a choice, I will want to go the facial sessions once a month. Sadly, it's quite expensive (worth S$360) and I'm not going to spend so much on it.
Pre-covid, it is very difficult to book a slot for the facials but I think the pandemic has made people try to avoid facials given the close proximity while mask-less. So I got the voucher and is able to secure a slot 2 days later. Quite surprising but I think I want to use the voucher ASAP given how dynamic the situation and the ever-changing restrictions brought by the pandemic.
Can you believe that we are still in the middle of the pandemic after close to 2 years? Gosh, I am certainly sick of it but I guess I rather stay in Singapore than to deal with the additional stress of travelling with so many different restrictions. I shall enjoy other people travel stories from Instagram stories.
As usual, I got myself a birthday cake. This year, I got a black forest cake. :happy: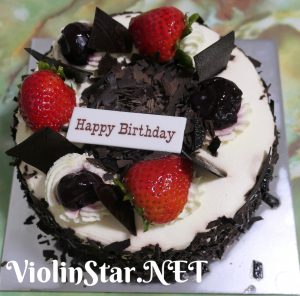 I'm loving my off week so far although I do feel FOMO about missing out on the log4j vulnerability related work. It's like one of the key vulnerability of the year and I miss out the initial action on it.
I think I will make this a new tradition – to clear my annual leave for a week on my birthday week. 🙂
I forgot to post something on ViolinStar.NET on my birthday. Let me see if I can remember what I did on my birthday this year. :hmm:
Since my birthday is on a Sunday this year, I didn't take a day off from work like what I used to. Haha, I don't like to study or work on my birthday. Fortunately I am a December baby so it has always been school holidays time for me.
I had Beauty in a Pot dinner with my boyfriend this year. He gave me a music theme musical box that he handmade from a kit. :happy: I love handmade gifts and I love musical boxes.
We went to see the Doremon exhibits outside National Museum of Singapore this year. I was carrying my birthday gift for myself (which I got back in September – Hermes Evelyne 29). I also got a new bag charm from Luxlexicon (someone sold their bag charm which is new-in-box condition). It's the Hermes horseshoe bag charm in Vermillion and Rose Sakura (both are in swift leather). 🙂 The bag was S$4900 and the bag charm was S$590 (below retail price). I feel so poor after buying both of them this year.
I was checking my old birthday photos and I realised I lost the 28th and 29th birthday photos. It's sad. Oh well, my hard disk has died and I didn't have backups. I also didn't have time to really try to retrieve them. Sigh, I only realised I lost those photos. So I can't upload the photo of my birthday cake last year, hence breaking the tradition. 🙁 This year, I am uploading it while I write this post just in case something has gone wrong again. 🙁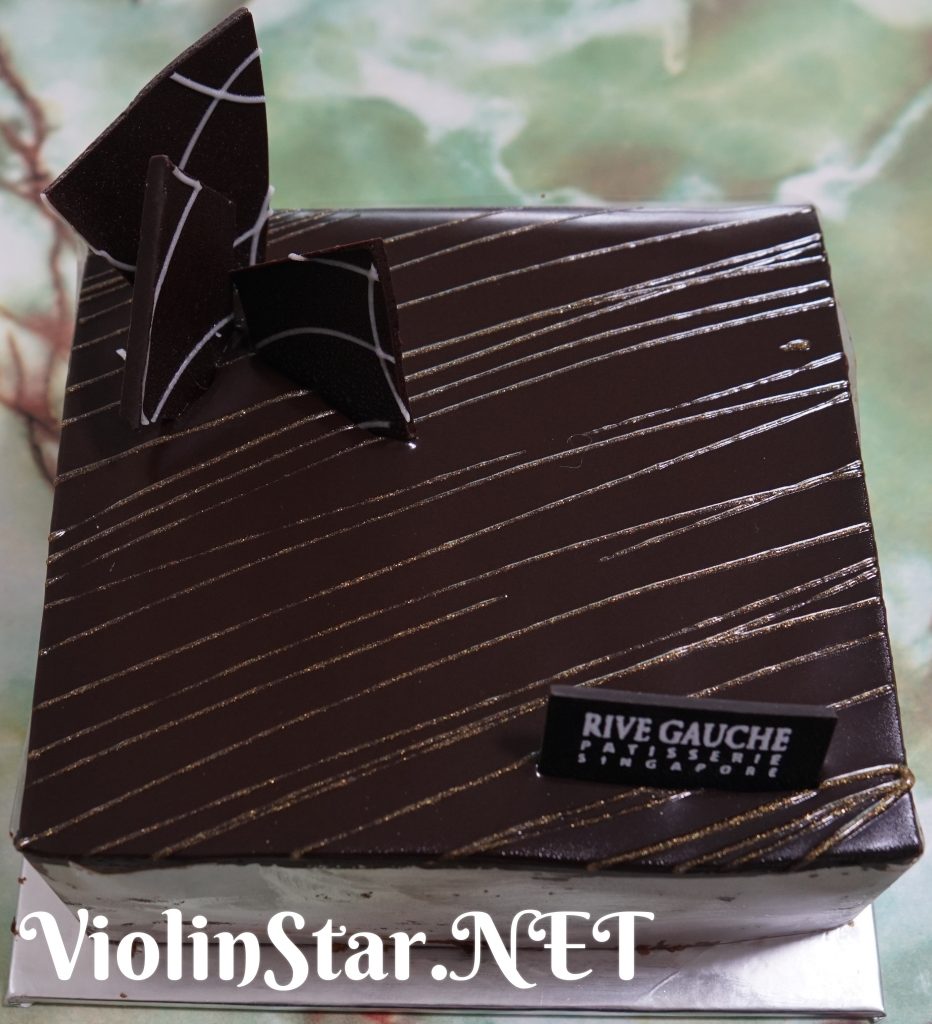 Happy Birthday to myself. Hehe. This is an overdue post since my birthday was over for a few days. The older I get, the more I don't want to share my age now so I am just going to use the same blog entry title for all my birthday posts from now on. :blank:
This year's birthday is quite different. I basically don't feel that it is birthday since I have been really busy at work. It don't feel like December since work is quite hectic this month. I remembered how work slows down from November till December when I was at Autodesk. Well, I had Week of Rest back in Autodesk. It basically means that we don't have to work on the last week of December. Many of my colleagues (back in Autodesk days) also clear their annual leave in December so the office is kind of empty in the last month of the year.
I didn't stayed long enough at Uber (due to merger) to know what is it like in December but I spent my last December at Grab. Oh boy, December is a busy month. It's the same in last December and even busier this December. 🙁 Oh well… Luckily I started clearing my leave in November, otherwise, I may not be able to clear them this month.
So what did I do during my birthday (13 December)? Well, I didn't schedule a Sulwhasoo facial treatment (like last year). I didn't get myself another electric violin like back in 2017. I also didn't get a new ukulele like back in 2016. I spent my day resting at home since it was raining for the past few days and it was still raining for the entire day on my birthday.
I did, however, got out of the house to have dinner with my boyfriend at Beauty in the Pot. Hehe, it is one of my favourite restaurants and I love hot pot. :happy: Chin Hau got me Hello Kitty balloon bouquet for my birthday too which was a great surprise. I have always envied the kids who got Hello Kitty helium balloons when I was outside and this time, he got me not just 1 but 5 helium balloons. 1 of it is a huge Hello Kitty figurine too! I was quite shocked at first but I kept looking at it and smiling to myself when I am seeing it at home. 🙂 Sakura is a happy girl with her helium balloons. :happy:
I also went shopping by myself then Chin Hau joined me after some time on 14 December. I got myself a mirror with lights which is useful for applying makeup. I got Chin Hau a simple yet pretty photo frame for Christmas and he got me a really pretty rings/accessories holder. 🙂 Then we had dinner and went to admire the Christmas lighting at Orchard Road. Sadly, it was raining so a bit hard to really go out and take photos. 🙁
We passed by Kiehls at ION Orchard and realised they have a storewide 20% sale. Not sure why that was the only branch with the sale though since I passed by the Plaza Singapura and TANGS branch today and there were no sale. I got my Kiehls skincare products which is going to last me for the next 6 months. Together with my other products, I think whatever I got so far is going to last for the entire year 2020. :happy: Oh, maybe except eye cream which I need to get from Sulwhasoo soon.
I got my Innisfree stuff today and VIP members get 20% as a birthday gift for their birthday month. I guess that is better for me since I am struggling to finish their samples from their birthday gifts or other purchases. I wanted the jewellery case which is their December month promotion and managed to spend exactly $100 for my essentials. Okay, fine, not really essentials as I splurged on diffuser (which is totally not an essential) and 1 lipstick and mascara – oh gosh, I don't use mascara that often. :stressed: Shopping is really bad for my wallet, indeed. I'm feeling really poor this month. Fortunately, I don't usually buy skincare/makeup stuff for the rest of the year so that's not too bad. Okay, minus June because sometimes my products ran out and needs to be topped up before December. :shy:
Anyway, I will post a photo of my birthday cake later since it is like my tradition now for all birthday posts, haha.
I'm back from Beijing. Hehe, I went Beijng for a work trip for 9 days. It was kind of rushed, hence didn't blog about it.
I went to Defcon Beijing 1.0 (yes, the first Defcon in Beijing after last year's beta version). It was quite exciting since it was my first time going to Defcon. Well, the main one in Las Vegas is too expensive – flight tickets, hotel and event ticket combined. Hence, I went for the one in Beijing. I paid for my own event ticket while the company paid for my flights and hotel stay. 🙂 Then I stayed on to work in Beijing office and was helping my Beijing colleague at work too. 😀
Defcon Beijing is mostly bling (lots of loud and nice decorations) and not many people went for it. Well, it's not cheap – US$170. But the talks and workshops aren't that technical. Not as technical as the one in Las Vegas, according to my colleague who went with me.
The location of the event is really old. Like rusty and stuff. Then they hid it by decorating it with lots of photos but they didn't decorate it every single part… It was also located at a remote location. It was not near train station or bus stop. Not exactly easy to find unless you take DiDi. Oh, DiDi in Beijing is really bad. The air is already so polluted and most DiDi drivers just open the car windows to air the car. Well, I get that they want to save money for aircon but still… sigh.
It was near an arts district (751 D.Park) so we went to explore after the event. It was pretty rundown and had a rustic feeling to it. I guess that's part of the distinctive feel of the place.
I also saw an old Uber stand/booth while on the way to 751 D.Park.
It was my first time to Beijing so it was an eye opening experience. The air is really polluted. Will I go back there again? Yes. Will I stay for more than a week? For the sake of my health, no. Will I go to Defcon Beijing again? No if it is at the same location.
There are really a lot of people working in Beijing. The traffic was really bad, but at least the cars are moving very slowly and not stuck and not move at all. We need to queue up to get into the train station during rush hour. We can't take DiDi during rush hour or we will be stuck in traffic jams. There were bag checks at every entrance of the train platform.
Ignoring the air pollution and bad traffic conditions, Beijing really have lots of nice bubble tea shops and food. Lots of cheap food around too. I had a great time eating and drinking bubble tea. 😳 Really need to work out more after the trip now… I am also having a phobia of bubble tea after 9 days of bubble tea.
Oh, we went to Quan Ju De, the famous Peking Duck restaurant but didn't order any duck meat. Haha, my colleague didn't want duck meat again since we had it at another restaurant. I had soy sauce chicken instead which turns out to be extremely salty. Will I go there again? Nah. I will go to the peking duck restaurant that my Beijing colleague brought us instead. It's "Liu Lin Kao Ya Dian" if you are interested to visit.
I had the best soup dumplings in Beijing – Yi Pin Xiao Bao. I highly recommended there. I had 2 meals there. The one on the left in the following photo is the usual pork soup dumplings while the one on the right is spicy pork dumplings – which was really awesome!
I also went to Forbidden City, Tiananmen Gate and also Summer Palace (Yi He Yuan). I will blog about them in future when I am free. Hehe.