I forgot to post on my birthday again but I will post what I did on that day.
I'm clearing my annual leave this week (since it's my birthday week). It was good since I get to rest for a week instead of the usual 1 annual leave day which I take usually. Unfortunately, that means I missed the action of log4j vulnerability at my workplace. Not sure if that's a good thing but I think it is going to be a long cleanup since there are so many applications that are using Java and there are so many exploits/ransomware/state attacks using this vulnerability. It's likely to last for some time.
I guess I'm quite a workaholic to be still thinking about work on my birthday. :shocked: I try to make sure I don't work or don't think about work on my birthday because it is like an off day for me for the entire year. 😀
For my off week, I planned to study for my Google Cloud Platform Cloud Security certification and also catch up on some personal errands. Not to forget to have my favourite cup of tea latte to chill. 🙂
On my birthday, I had dinner with my boyfriend at Beauty in the Pot because we couldn't get a booking at KOMA restaurant. It's not too bad since I love Beauty in the Pot. It's basically what I had for last year as well.
He surprised me with a gigantic floating/helium balloon on the day itself too. No birthday cake but I got a helium balloon. :happy: He got me a pair of gold earrings and a windmill pendant from Chow Tai Fook a few days before. I realised as I get older, my skin is having issues when I wear costume jewellery or mixed metals. I can still wear them but if I wear them for too long, it will get a bit red/swollen. 🙁 Oh well. I love my costume jewellery for earrings. Now I have to wear at least 18K gold earrings otherwise my ear holes might sealed. Oh well. Age related issues, I guess.
Before the dinner, I had a free facial (TIMETREASURE INVIGORATING TREATMENT) after I redeemed my free facial voucher after spending over S$500 on my first purchase on my birthday month at one of the Sulwhasoo boutique. Well, I tend to buy 6-month supply of skincare products at a go so hitting S$500 is not too difficult, especially when Sulwhasoo products aren't that cheap either. I opt to top up the eye care facial on top of my package for S$50 because it's worth it. I can see my face more lifted after the entire session, including my eye area. If I have a choice, I will want to go the facial sessions once a month. Sadly, it's quite expensive (worth S$360) and I'm not going to spend so much on it.
Pre-covid, it is very difficult to book a slot for the facials but I think the pandemic has made people try to avoid facials given the close proximity while mask-less. So I got the voucher and is able to secure a slot 2 days later. Quite surprising but I think I want to use the voucher ASAP given how dynamic the situation and the ever-changing restrictions brought by the pandemic.
Can you believe that we are still in the middle of the pandemic after close to 2 years? Gosh, I am certainly sick of it but I guess I rather stay in Singapore than to deal with the additional stress of travelling with so many different restrictions. I shall enjoy other people travel stories from Instagram stories.
As usual, I got myself a birthday cake. This year, I got a black forest cake. :happy: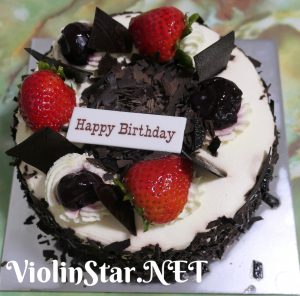 I'm loving my off week so far although I do feel FOMO about missing out on the log4j vulnerability related work. It's like one of the key vulnerability of the year and I miss out the initial action on it.
I think I will make this a new tradition – to clear my annual leave for a week on my birthday week. 🙂
Happy Birthday to myself. Hehe. This is an overdue post since my birthday was over for a few days. The older I get, the more I don't want to share my age now so I am just going to use the same blog entry title for all my birthday posts from now on. :blank:
This year's birthday is quite different. I basically don't feel that it is birthday since I have been really busy at work. It don't feel like December since work is quite hectic this month. I remembered how work slows down from November till December when I was at Autodesk. Well, I had Week of Rest back in Autodesk. It basically means that we don't have to work on the last week of December. Many of my colleagues (back in Autodesk days) also clear their annual leave in December so the office is kind of empty in the last month of the year.
I didn't stayed long enough at Uber (due to merger) to know what is it like in December but I spent my last December at Grab. Oh boy, December is a busy month. It's the same in last December and even busier this December. 🙁 Oh well… Luckily I started clearing my leave in November, otherwise, I may not be able to clear them this month.
So what did I do during my birthday (13 December)? Well, I didn't schedule a Sulwhasoo facial treatment (like last year). I didn't get myself another electric violin like back in 2017. I also didn't get a new ukulele like back in 2016. I spent my day resting at home since it was raining for the past few days and it was still raining for the entire day on my birthday.
I did, however, got out of the house to have dinner with my boyfriend at Beauty in the Pot. Hehe, it is one of my favourite restaurants and I love hot pot. :happy: Chin Hau got me Hello Kitty balloon bouquet for my birthday too which was a great surprise. I have always envied the kids who got Hello Kitty helium balloons when I was outside and this time, he got me not just 1 but 5 helium balloons. 1 of it is a huge Hello Kitty figurine too! I was quite shocked at first but I kept looking at it and smiling to myself when I am seeing it at home. 🙂 Sakura is a happy girl with her helium balloons. :happy:
I also went shopping by myself then Chin Hau joined me after some time on 14 December. I got myself a mirror with lights which is useful for applying makeup. I got Chin Hau a simple yet pretty photo frame for Christmas and he got me a really pretty rings/accessories holder. 🙂 Then we had dinner and went to admire the Christmas lighting at Orchard Road. Sadly, it was raining so a bit hard to really go out and take photos. 🙁
We passed by Kiehls at ION Orchard and realised they have a storewide 20% sale. Not sure why that was the only branch with the sale though since I passed by the Plaza Singapura and TANGS branch today and there were no sale. I got my Kiehls skincare products which is going to last me for the next 6 months. Together with my other products, I think whatever I got so far is going to last for the entire year 2020. :happy: Oh, maybe except eye cream which I need to get from Sulwhasoo soon.
I got my Innisfree stuff today and VIP members get 20% as a birthday gift for their birthday month. I guess that is better for me since I am struggling to finish their samples from their birthday gifts or other purchases. I wanted the jewellery case which is their December month promotion and managed to spend exactly $100 for my essentials. Okay, fine, not really essentials as I splurged on diffuser (which is totally not an essential) and 1 lipstick and mascara – oh gosh, I don't use mascara that often. :stressed: Shopping is really bad for my wallet, indeed. I'm feeling really poor this month. Fortunately, I don't usually buy skincare/makeup stuff for the rest of the year so that's not too bad. Okay, minus June because sometimes my products ran out and needs to be topped up before December. :shy:
Anyway, I will post a photo of my birthday cake later since it is like my tradition now for all birthday posts, haha.
I have been posting several food photos but have not been sharing them on ViolinStar.NET. So now I am going to share them… and also talk a bit about them too.

I took this photo of my meal at Wooloomooloo Steakhouse. It's probably my most expensive meal. It's also my Masters graduation dinner which I had with my friends (Alan and Jeffrey). It's a bit sad that how graduate school can be a little cold. But I'm glad that I have made some friends whom I will still meet up every now and then. 🙂

I had lunch at Toast Box (silly me for not realising that the cafe that we want to visit is closed on public holidays). I went with Eunice and Rui Yun and had a HTHT (Heart to Heart Talk) with them. It's interesting to see how different we have all become but we are still together. Friends forever, hopefully!

I had mala xiang guo at Fusionopolis I. I used to have it when I was still working at Autodesk. Now that I left Autodesk, I didn't have much chance to have it for a long time. So glad that Chin Hau agreed to go with me after we collected our graduation gowns back in June.
I had this with Chin Hau because he hasn't had Fish and Co for a long time and he loves it. Haha, he looks so excited (like a little kid) when he orders his dinner. I get my chocolate bingsu from Nunsongyee too. Yay, I finally found someone who is willing to have chocolate bingsu with me!

I met up with Randumps and they met Chin Hau for the first time.
"You can't seem to be predict how much you can eat…" – Chin Hau
This is not the first time he said it and somehow he always helped me finish the unfinished food. Hehe. On a side note, I really should order less in future.
I met up with the Randumps clique for a dimsum lunch. Dimsum is more of desserts to me and it is my first time having it as a lunch. Luckily we didn't overorder and managed to finish everything. We also had chinese desserts as well!
On the same day, I met up with Huiling for okonomiyaki. Yes, I went back to Seiwaa. It is my favourite okonomiyaki and teppanyaki restaurant in Singapore now.
I also went for omurice at Suntec City with Ming Lian (a different day). It is my first time trying the lava omu rice and it was delicious! Haha, I went back there for the second time recently too.
Okay, that's a lot of food and I think I am getting fat with so many good food in Singapore and snacks in office. 😥
I met up with my friends and colleagues (different days) for dinner at Thai Express. Haha, I actually love the chendol drink from Thai Express.
Haha, not sure if I will get sick of Thai Express. Actually the thai food at Thai Express is not very nice but they have good desserts…