«
Change to a new webhost
End of my work leave
»
---
I forgot to post on my birthday again but I will post what I did on that day.
I'm clearing my annual leave this week (since it's my birthday week). It was good since I get to rest for a week instead of the usual 1 annual leave day which I take usually. Unfortunately, that means I missed the action of log4j vulnerability at my workplace. Not sure if that's a good thing but I think it is going to be a long cleanup since there are so many applications that are using Java and there are so many exploits/ransomware/state attacks using this vulnerability. It's likely to last for some time.
I guess I'm quite a workaholic to be still thinking about work on my birthday. :shocked: I try to make sure I don't work or don't think about work on my birthday because it is like an off day for me for the entire year. 😀
For my off week, I planned to study for my Google Cloud Platform Cloud Security certification and also catch up on some personal errands. Not to forget to have my favourite cup of tea latte to chill. 🙂
On my birthday, I had dinner with my boyfriend at Beauty in the Pot because we couldn't get a booking at KOMA restaurant. It's not too bad since I love Beauty in the Pot. It's basically what I had for last year as well.
He surprised me with a gigantic floating/helium balloon on the day itself too. No birthday cake but I got a helium balloon. :happy: He got me a pair of gold earrings and a windmill pendant from Chow Tai Fook a few days before. I realised as I get older, my skin is having issues when I wear costume jewellery or mixed metals. I can still wear them but if I wear them for too long, it will get a bit red/swollen. 🙁 Oh well. I love my costume jewellery for earrings. Now I have to wear at least 18K gold earrings otherwise my ear holes might sealed. Oh well. Age related issues, I guess.
Before the dinner, I had a free facial (TIMETREASURE INVIGORATING TREATMENT) after I redeemed my free facial voucher after spending over S$500 on my first purchase on my birthday month at one of the Sulwhasoo boutique. Well, I tend to buy 6-month supply of skincare products at a go so hitting S$500 is not too difficult, especially when Sulwhasoo products aren't that cheap either. I opt to top up the eye care facial on top of my package for S$50 because it's worth it. I can see my face more lifted after the entire session, including my eye area. If I have a choice, I will want to go the facial sessions once a month. Sadly, it's quite expensive (worth S$360) and I'm not going to spend so much on it.
Pre-covid, it is very difficult to book a slot for the facials but I think the pandemic has made people try to avoid facials given the close proximity while mask-less. So I got the voucher and is able to secure a slot 2 days later. Quite surprising but I think I want to use the voucher ASAP given how dynamic the situation and the ever-changing restrictions brought by the pandemic.
Can you believe that we are still in the middle of the pandemic after close to 2 years? Gosh, I am certainly sick of it but I guess I rather stay in Singapore than to deal with the additional stress of travelling with so many different restrictions. I shall enjoy other people travel stories from Instagram stories.
As usual, I got myself a birthday cake. This year, I got a black forest cake. :happy: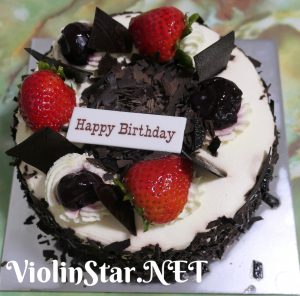 I'm loving my off week so far although I do feel FOMO about missing out on the log4j vulnerability related work. It's like one of the key vulnerability of the year and I miss out the initial action on it.
I think I will make this a new tradition – to clear my annual leave for a week on my birthday week. 🙂
Comments
Comments will be returned if you leave your URL. :) I generally do not reply comments on my blog itself.